2016 Retreat is in the works  
Click for Classes                                                   2014 retreat pictures
We will pack up our sewing "stuff" and go to the
California State University Stanislaus campus in Turlock for 3+ days of fun, quilting and socializing. (Location is 60 miles from Pleasanton or a 1 hour drive). The dates are Thursday, June 23rd thru Sunday June 26th, 2016. Current estimated cost is $300. (If the actual cost is less you will receive a refund of the difference).
All members are welcome to come join us and quilting skills may be at all levels, but your fun level has to be high as lots of it is on the schedule.
University housing is a little different from being in a hotel. It's comprised of living units with a living room, full kitchen, 2 partial bathrooms and four single bedrooms. Meals will be served in the Dining Hall and we will have several rooms for sewing. One room is large enough for everyone to set up a sewing space and classes will be offered in smaller rooms.
There are two wonderfully inviting swimming pools, and the grounds
are perfect for those who like to walk for exercise. And yes – all the rooms are air conditioned.
To reserve your space at the retreat you should put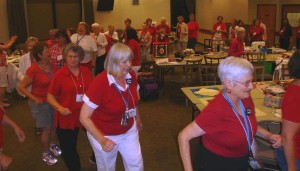 down a $50 "hold a spot" deposit at the November General meeting, or notify Audrey Hutchinson and mail a check. Feedback from the last retreat indicates that people were happy having payments broken down over several months.  A second payment of $50 is due at the January general meeting; a payment of $100 is then due on or before February 13th, and the final balance of $100 will be due March 31st, 2016. However, you may pay sooner if you want. A full refund will be given if you cancel by April 9th 2016.   Cancel after that date and a full refund is not guaranteed.    May 31st is the last day that you may receive a refund.
Over the next couple of months we will be putting together the class and activity programs. Watch this page for class information and photos of class samples. Once we finalize that, you will complete an application form, which will also ask you if you have special needs, etc.   We will also add additional detailed information you may need to ensure you have a wonderful retreat.
We do quite a bit of walking at the retreat so now is the time to think about building up your stamina.   We all have lots of sewing stamina, but putting our boots on the ground is slightly different.
If you are a new member to the guild and haven't had the opportunity to attend a retreat with the guild please reach out to our committee with your questions.    Jeanne, the Barbaras' and I have been at the previous retreats held at Turlock so should be able to answer your questions.
Committee:
Audrey Hutchinson & Donna Fay Bower – Co-Chairs,
Barbara Goldhammer , Barbara Adams , Inta Faulk,  Jeanne Brophy, and Kia Kelley-Johnson.