MYSTERY QUILT
The mystery quilt will be offered in three sizes 51″ x 60″, 60″ x 78″ and 77″ x 86″.
If you plan on doing the mystery quilt please let me know which size you are planning on so we have the correct directions and fabric amounts for you.    We will show you a couple of fabric selections so you have some idea of what to bring.
Mystery Quilt Fabric ideas are shown to the right. Click on image for a larger version.
Thursday – 23rd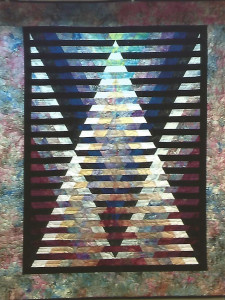 MIRRORED PYRAMIDS
You will need 21   1/4 yard pieces (NOT FQS)     7 in first graduation light to dark;  7 in the second graduation dark to light; 7 in the third graduation white to dark.   (it appears that batiks would be wonderful).   Lots of strip piecing with prep work so you can have fun making the pyramids.    Cardboard templates available in class for $5.
Friday – 24th
CHRISTMAS TREE –
FREE STANDING
This class uses a pattern by Aunties Two
Tree will be 16″ tall.   This uses 2 1/2″ strips (probably Christmas type fabric)  and 2 1/4″ batting strips.    Prep work will get you to the fun part in class.
Saturday – 25th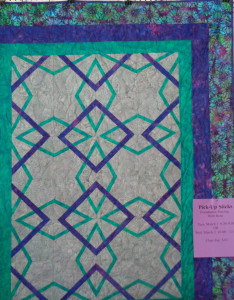 PICK-UP STICKS FOUNDATION PIECING
Sorry don't have fabric requirements yet.  This has been designed by the teacher and I will give you the fabric needs and the paper patterns in advance so you can have time to get them printed out.   This class is suitable for both beginning paper piecers  and for the more experienced as we always learn new tricks.