Pam had been an AVQ member for over 30 very active years. She was President of the guild in 1990 and chaired 2 quilt shows, one in 1989 and one in 2017. She contributed to the guild through many years of active volunteer and chairmanship activities.
She will be greatly missed.
The Quilt of Life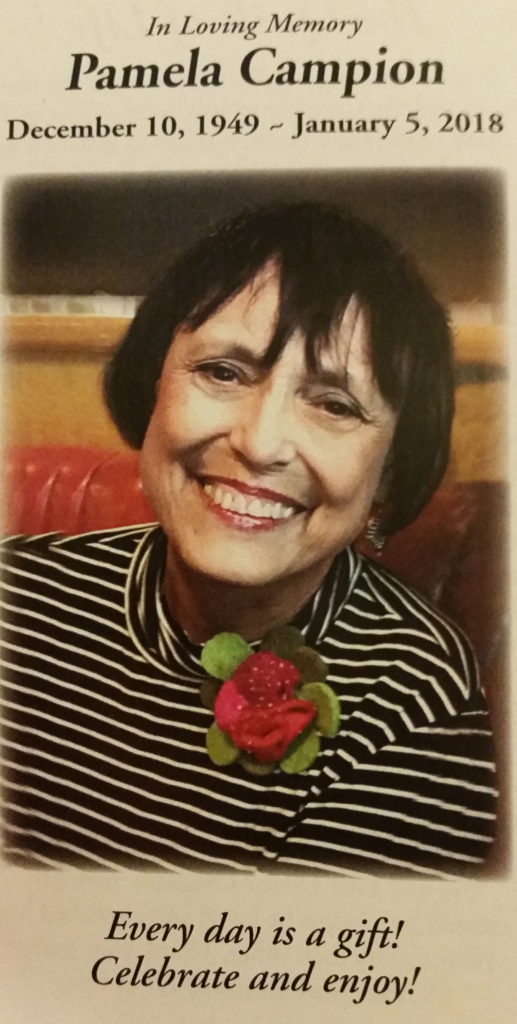 Life is like making a quilt. Give women the same colors and the same pieces and there will be quilts made of the same cloth, but just as different as can be. Seems that is the way it is with life.
God gives us the pieces, but we can cut them out and put them together to suit ourselves OR we can take the pieces God gives us and make our lives beautiful and pleasing to Him. In His perfect love, He has a beautiful design planned for each quilt.
So my life is an original. There is none like it in the whole world. I have not been left to design it on my own. My faith is the backing of my quilt, which gives it strength and warmth. Each square represents a part of my life that God has touched and I am so thankful for each person and experience that has helped design my Quilt of Life.
When my Quilt of Life is complete, I want people to know it is enhanced by the Fruit of the Spirit, which is love, joy, peace, patience, kindness, goodness, faithfulness, gentleness and self-control.
You and I are Divine Originals, lovingly created by God to be loved and cherished by Him and by each other. Thank you, Jesus, for Your plan for my Quilt of Life.