Visiting speakers are the backbone of our monthly Guild Meetings.  The wonderful workshops they present for guild members on the Sunday following the meeting are the best deal in town! Our workshops are self-supporting and we depend on our members to participate to help keep the great speakers coming to our Guild.
We have some great workshops coming up, so check out the speakers' websites and stop by the Workshop table at the Guild meeting to see samples, patterns and books
     Our workshops are held at the Bothwell Arts Center, 2466 8th Street, Livermore. Map
They occur on the Sunday that follows the Guild general meetings and run from 10am – 4pm.  Set up starts at 9:45. For more information, contact the Workshop Chairperson via our Contact Form or stop by the Workshop table at the Guild meeting.
Upcoming Programs & Workshops:
Check current newsletter for Workshop Information
2017
August – Ashley Nickels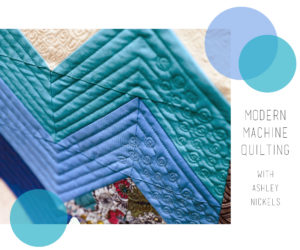 Lecture: From Traditional to Modern, it's All in the Family (of Quilting!)
Ashley will talk about the changing trends in quilting beginning with her mother's first quilts in the late 1970's to current projects that are influenced by the traditions of the past and the current climate of modernism.
Workshop: Basics of Modern Machine Quilting
In this class, students will learn basic machine quilting techniques and gain insight into creating a modern composition on their quilts.
September – Meri Vahl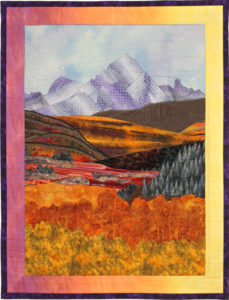 Lecture: "An Art Quilter's Journey – How I discovered that quilts cannot only be art, but also lots of fun"
Workshop: "Layered Landscapes"
Open up a whole new world of artistic possibilities with this playful and fun technique.  No fusing or sewing machines necessary for this one day class.  Just bring your favorite photograph for inspiration, scissors, lots of straight or safety pins, fine BLACK tulle (other colors asdesired), and fabric to make your artistic vision come true.
In addition, I'll demonstrate how I create people for my quilts, and I'll show you an easy way to add borders so you can make an art quilt of any size, and you will only have to machine quilt the outside edges of your project.
October – In-House Presentations.   TBA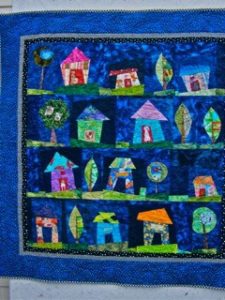 November – Alexandra Vonburg
Lecture: "Telling Stories"
Workshop: "Free Form Piecing" Free form piecing is a no-template method of making unique multiple blocks that will fit together for a whole quilt.  A great way to feature scraps and favorite novelties.
December: Holiday Tea
2018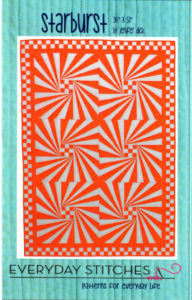 January – Jennifer Dick
Lecture: Stories in Stitches – Stories of the quilts of Western Missouri collected in 2010 and a slide show of the best of The Cass County Quilt Documentation Project.
Workshop: "Starburst" This quilt is a fun, unique quilt that will stretch the confident beginner and delight the more experienced quilter. Each block has 4 identical paper-pieced sections that are pieced with a 3″ nine-patch unit in the center. The block is joined with partial seams. The optical illusion is mesmerizing once all 6 blocks are joined together.
February – In -House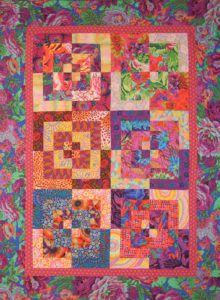 March – Peggy Martin
Lecture: Beyond Tradition – Expand your creativity by using traditional quilts as a springboard for design inspiration. See how one idea leads to another, making one small change at a time to come up with totally new ideas and looks.
Workshop: Jelly Roll Jive – These simple, fast strip-pieced blocks make a contemporary positive-negative design. Use busy prints for a softer look, or solids for more graphic impact.
April – Christine Barnes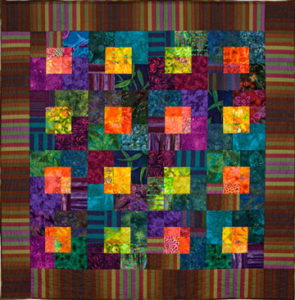 Lecture: Magic Fabrics/Special Effects – What constitutes a magic fabric? I describe many as "shot with light." They usually display variations in value—light areas among darker areas, or light-to-dark gradations—and they typically contain warm colors.
Workshop: Luminosity – This dazzling special effect is surprisingly easy to achieve, once you understand a few simple concepts.
To view a list of speakers from previous years, please visit our Member Archives