Visiting speakers are the backbone of our monthly Guild Meetings.  The wonderful workshops they present for guild members on the Sunday following the meeting are the best deal in town! Our workshops are self-supporting and we depend on our members to participate to help keep the great speakers coming to our Guild.
We have some great workshops coming up, so check out the speakers' websites and stop by the Workshop table at the Guild meeting to see samples, patterns and books
     Our workshops are held at the Bothwell Arts Center, 2466 8th Street, Livermore. Map
They occur on the Sunday that follows the Guild general meetings and run from 10am – 4pm.  Set up starts at 9:45. For more information, contact the Workshop Chairperson via our Contact Form or stop by the Workshop table at the Guild meeting.
Upcoming Programs & Workshops:
Check current newsletter for Workshop Information
2018
Take the Unfinished Quilt Challenge! 
A quilt a month from this coming April until May of 2019
You will be finishing one quilt per month. You can work on any of your listed quilts but if you want to be entered in the monthly $20 drawing, you'll need to complete the quilt whose number was drawn the previous month. Monthly drawing will begin in April.
This game is played with a buddy to help encourage and keep each other honest! You don't need to have a buddy in order to sign up. We'll find a buddy for you (great way to meet someone new).    It's OK to join at any time. Fill out the interactive online form or sign up at the next Guild Meeting and make your list of quilts, minus the numbers already drawn before you joined.
Check out the details on the Unfinished Quilt Challenge page!!!
As of the February meeting, we have 29 participants in the Unfinished Quilt Challenge. Watch here for updates.
~ Kathy Proctor, Sue Stephenson's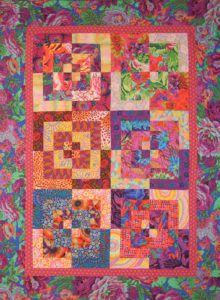 March – Peggy Martin
Lecture: Beyond Tradition – Expand your creativity by using traditional quilts as a springboard for design inspiration. See how one idea leads to another, making one small change at a time to come up with totally new ideas and looks.
Workshop: Jelly Roll Jive – These simple, fast strip-pieced blocks make a contemporary positive-negative design. Use busy prints for a softer look, or solids for more graphic impact.
April – Christine Barnes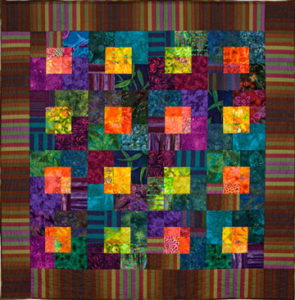 Lecture: Magic Fabrics/Special Effects – What constitutes a magic fabric? I describe many as "shot with light." They usually display variations in value—light areas among darker areas, or light-to-dark gradations—and they typically contain warm colors.
Workshop: Luminosity – This dazzling special effect is surprisingly easy to achieve, once you understand a few simple concepts.
May – SILENT AUCTION
Friends, neighbors, and other guilds are invited. Treasures to be found and lots of fun to be had.
Cash, check or charge accepted. Credit cards will have transaction fee included. Tax will be included on all purchases.
June –
July 2018 – Husbands, Sons, Brothers & Fathers
Here is an opportunity to hear the male point of view on quilts.
This is easy… all you have to do is volunteer your husband or son or brother or father to participate on a panel with other husbands/sons/brothers/fathers. Each panelist will show 3-5 of their wife/mom/sister/daughter's quilts and tell us why these are their favorites.
See the January newsletter for details if you'd like to volunteer the man in your life.
To view a list of speakers from previous years, please visit our Member Archives