Welcome and Upcoming Speaker
President's Welcome:
Welcome to the Amador Valley Quilters' website, which aims to introduce you to the many activities and opportunities available to you.  We hope it entices you to visit us personally.  We meet at Pleasanton Middle School, on the second Saturday of each month, at 1:30 P.M.
Our guild has a lot to offer.  We are a large group (more than 350 members) and we are able to bring in many top name teachers/speakers to share their talents with us through classes, trunk shows and talks. As a means for our members to share their varied interests in quilting we have many  friendship groups such as round robins, art quilting, and applique, just to name a few.  Our outreach programs include activities like, rookie quilts, Quilts of Valor, community quilts which are distributed to many different organizations throughout the year, and we help with events which introduce people to quilting such as Alden Lane's Quilting in the Garden "Budding Beginners" program.  On top of that we go on mystery shopping trips, hold retreats, quilt shows, social events, and silent auctions and we have a wonderful lending library full of quilting resources for our members.  These are some of the activities to encourage our members to get involved, and did I mention the most important of all? Have fun!  I invite you to visit one of our meetings, hear a speaker and see what we have to offer.
Sincerely,
Sandee Harvey
President, 2013-2014                                                                               
Amador Valley Quilt Guild is a charitable organization under Section 501(c) (3) of the Internal Revenue Code; tax ID# 68-0218621.
---
Upcoming AVQ Events:
Note: For all AVQ events, please see our Event Calendar.
March 2014 – Liz Berg
Our March speaker is one of our own AVQ members. Liz has been making quilts since 1971.  However, she began diverging from traditional quilts to explore color and composition in more abstract works. She now considers herself a fiber artist rather than a quilt maker, although many pieces still fit the original definition of quilt.  She paints and dyes fabrics, both to sell and to use in her own work, and is exploring all the variations of working on and with fiber.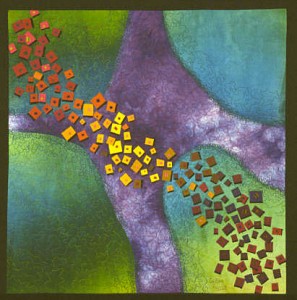 Working out of a studio in her home she shares with her husband, she is producing a large body of work which is varied in its color and design ideas. Her work celebrates line, movement and color. Liz works intuitively in the format of abstract expressionism with nature as her inspiration.
She has taken numerous awards at local and national venues. Her work is in private collections throughout the United States and Japan, and is in the permanent collections at the Honolulu Academy of Art and Trinity University in San Antonio, Texas.
Her workshop on Sunday March 9 is Design for Art Quilts.
 Jan Steinhoff – Program Chair