Upcoming Speaker: President's Welcome
Note: For all AVQ events, please see our event calendar.
October 2015 – Annie Smith
"Help, My St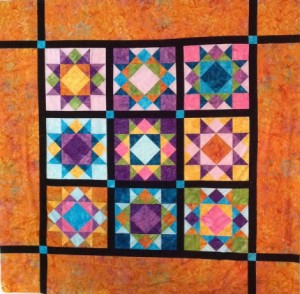 ash is Growing and I Can't Make it Stop!"
Annie Smith is a whirlwind of quilty activities.  Not only does she quilt, design, teach, and judge, she has created the first "Quilter's Podcast".
Her list of accomplishments includes having been an Artist in Residence at both the "Empty Spools Seminars" and at Elly Sienkiewicz's "Applique Academy", being a C&T published author and a Bernina Artisan Rep.  She also appeared on "The Quilt Show" with Alex Anderson.
Annie's specialties are machine applique and the use of color and value.  Annie's lecture will, I am confident, inspire us all to rush home, and 'tame' our out-of-control stashes – in fact, I am sure of it!  See you there.
President's Welcome:
Welcome to the Amador Valley Quilters website.  We invite you to browse the site to read about all the wonderful activities we offer and hope that you will come join us.  We are a thriving guild that will celebrate 35 years of continuous membership.  We have 400+ members with a wide variety of skills and talent.  The goals of our guild are to enhance the art of quilting, bring new members into the guild, contribute to our communities by multiple outreach activities, and enjoy friendships.
We meet on the 2nd Saturday of the month at 1:30 in the Pleasanton Middle School, Case Avenue.  We have tables for a variety of activities.  You may purchase a Block of the Month, with the opportunity to win all blocks to make a quilt.  Display blocks showcase a variety of quilting techniques in 16" blocks.  Enjoy our thoroughly stocked very low cost magazine table.  Pick up a quilt kit to complete for community quilts.  We donate approximately 900 quilts a year to a multitude of needy organizations.  There are opportunities to sign up for monthly workshops – come learn a new technique!  We sponsor Quilts of Valor.  Teach Rookie and Budding Beginner's quilting at the yearly Alden Lane Quilting in the Garden.  For history buffs we offer "Quilting Then and Now" events at the Alviso Adobe Museum.  Many 'friendship' groups focus on particular styles of quilting…something for everyone.  Some of the fun activities include a new member lunch, lemonade social, silent auction, and a bi-yearly quilt show.
Highlights of our meetings include a speaker's program and sharing of our members quilts, all following a short business meeting.  There is so much more that we offer – look around our website, then come meet us!
Sincerely,
Mary Ann Soby
President, 2015-2016
Amador Valley Quilters, Inc. is a charitable organization under Section 501(c) (3) of the Internal Revenue Code; tax ID# 68-0218621.