President's Welcome:
Welcome to Amador Valley Quilters!
Our guild began on Valentine's Day in 1981 with 14 women filled with excitement and curiosity about what they could do.  They put their hearts and souls into making quilts to give to charitable organizations.  While our membership has grown to almost 400 members, we still follow the original 14 by putting our hearts and souls into giving over 900 quilts every year to charities and participating in various outreach programs.
We are proud to present a wide variety of nationally recognized quilt teachers to speak at our meetings and to challenge us in workshops.  We have "friendship groups" to fit everyone's interests, from hand appliqué to free motion quilting and just about everything in between, not to mention the most important part:  friendship!
Everyone is welcome to join us the second Saturday of the month and hopefully soon you too will be excited to say you are a member of Amador Valley Quilters.  Make sure you stop by and say hello when you visit.  I look forward to meeting you.
Jeanne B. Brophy,  President 2012-2013
Amador Valley Quilt Guild is a charitable organization under Section 501(c) (3) of the Internal Revenue Code; tax ID# 68-0218621.
---
Upcoming AVQ Events:
Note: For all AVQ events, please see our Event Calendar.
May 2013 -
Alex Anderson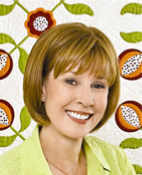 Alex is the author of 30 books in four languages selling near 1 million copies worldwide. Alex is a founding partner of The Quilt Show.com and The Quilt Life magazine (publisher AQS) with Ricky Tims. She is a designer of her own line of fabrics with P&B Textiles and threads with Superior Threads. For 11 years, she served as host of "Simply Quilts" on HGTV. Alex continues to be one of the most sought after instructors and lecturers in the international quilting and sewing industry.
Kathleen Rountree, Program Chair