Upcoming Speaker: President's Welcome
Note: For all AVQ events, please see our Event Calendar.
April 2015 – Jan Soules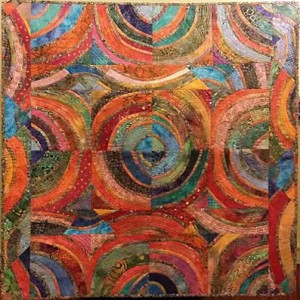 She has never settled on one style, preferring to mix appliqué and pieced blocks using her sense of color and design to create her "treasures." Choosing colors and fabrics are her favorite part of the process and she carefully selects each piece in her so called "scrap" quilts. Jan has experimented with her own designs and has joined a small art group. She has also begun to dye some of her own fabric. Join us as she inspires us with some Spectacular Borders.
Sunday she will teach a workshop on Curved Piecing with Bias Strips.
President's Welcome:
Welcome to the Amador Valley Quilters' website where we can introduce you to the many activities and opportunities offered for you. Hopefully it will entice you to visit us personally.  We meet at Pleasanton Middle School, on the second Saturday of each month, at 1:30 P.M. We would love to have you join us for our fun and informational meeting. We enjoy the best speakers telling their quilting stories and enjoy sharing the many quilts our members have made.
Our guild has a lot to offer.  We are a large group (more than 350 members). Thus we are able to bring in many top name teachers/speakers to share their talents with us through classes, trunk shows and talks. Our members share their varied interests in quilting through many friendship groups. Our outreach programs include activities like, rookie quilts, Quilts of Valor, as well as "Quilting Then and Now" quilting days at the Alviso Adobe Museum. Community quilts, made by our members, are distributed to many different organizations throughout the year. We also help with events which introduce people to quilting such as Alden Lane's Quilting in the Garden "Budding Beginners" program.  We have a lot of fun going on mystery shopping trips, hold retreats, quilt shows, social events, and silent auctions. We have a wonderful lending library full of quilting resources for our members.  These are some of the activities to encourage our members to get involved. But, most important, Have Fun!  I invite you to visit one of our meetings, hear a
speaker and see what we have to offer.  See you there.
Sincerely,
Karen Parker
President, 2014-2015    
Amador Valley Quilt Guild is a charitable organization under Section 501(c) (3) of the Internal Revenue Code; tax ID# 68-0218621.